Firefighters
FireBot installed in all kitchens would cut residential fire department responses in half. City and County budgets would love the effects of FireBot. Less responses mean less chance of firefighter injuries, plus a savings on dispatches.
It is hoped FireBot would be written into building codes much like smoke detectors and other fire code requirements.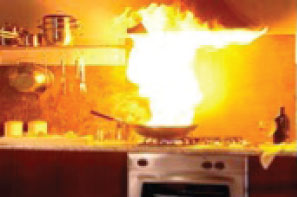 If you are a firefighter involved in protecting lives and property, you will understand the importance of a fire prevention device such as FireBot. A simple, clip-on installation, affordable to all, and it works up to the strict standards of UL-300A (able to keep a 4 burner stovetop fire extinguished for a minimum of 5 minutes). FireBot's future models will incorporate wireless communication that will turn off electric/gas supply, warn of gas leaks, and communicate to home automation systems with cell phone notifications and alerts.
Buy one share or many. Good for your future.
By creating a simple device we solve a huge problem. Good for everyone!